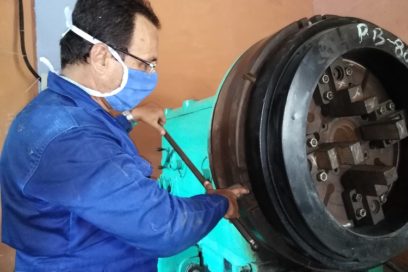 A number of innovations made at the Mártires del 9 de Abril Workshop in the capital city of Ciego de Ávila contribute to the technological and equipment sustainability of the food industry in the province, given the low availability of inputs or spare parts.
Such is the case of the «April 9 Bread Sobadora», with more than two decades of operation in the food industry units and the cassava peeling machine, which humanizes the performance of his coworkers and with a cost in the market international from 2 thousand to 12 thousand dollars.
Lázaro Alonso Oropesa is one of the most outstanding workers, whose solutions and inventiveness in almost 40 years of uninterrupted work in the Mártires del 9 de Abril workshop, have led to the recovery of Czech mixers, Chinese oven gear motors, fruit pulpers, dies and rotary cookies line.
Due to his performance, the National Association of Innovators and Rationalizers of Ciego de Ávila has stimulated him as a delegate to national congresses and with recognitions that are difficult to list.