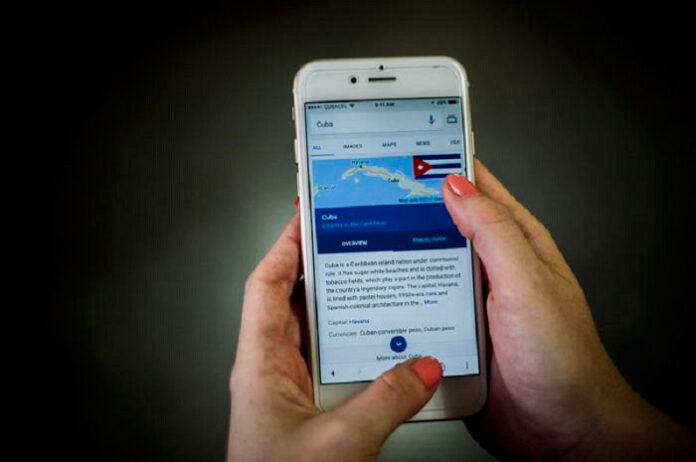 The Cuban Phone  S.A. (ETECSA) in Ciego de Ávila gave priority in the year just concluded to the installation of radio bases in rural communities to provide cellular telephony coverage and thus continue with the national program for the informatization of society, in spite of the difficulties in terms of resources.
Residents of the Mamonal Popular Council, in the municipality of Majagua, are among the beneficiaries of the 2G and 3G (second and third generation, respectively) technology, which expand the Internet access network.
Ricardo Blanco Gómez, head of ETECSA in the Majagua locality, told the Cuban News Agency that Mamonal was qualified as a silence zone, because communications there were very difficult.
With the installation of a radio base in that rural zone, the municipality strengthens the cellular network service, since the other four Popular Councils were already benefiting from it, Blanco Gómez pointed out.
Nelson Guerra Mesa, acting director of ETECSA in Ciego de Ávila, told Digital Invasor that, despite 2022 being a tense year, there was growth in the number of services.
Of the nine radio bases installed, five were located in the rural communities of Miraflores and Yarual, in Bolivia; Vicente, in the capital municipality; Los Naranjos, in Ciro Redondo; and Mamonal, the most recent one.
Investing in this technology is one of the entity's priorities in order to improve the quality of the services, especially considering that the continuous electrical failures during the previous year had a negative impact on the services, mainly the cellular one, said Oliver Medina Rodríguez, head of the Network Administration Group.
By achieving stability in the parameters indicated by the company, and having complied with the necessary maintenance, it will allow for growth during 2023 in towns such as Punta Alegre, Colorado and Baraguá, said Medina Rodríguez.
The 2G and 3G strengthen the cellular network service, which every day increases its demand in the territory and today benefits more than 230 thousand Avilanians with mobile telephony.
There are currently 290 radio bases for 4G, 3G and 2G in operation throughout the geography of Ciego de Ávila, equipment that undoubtedly create the support to favor the provision of 5G in the future.