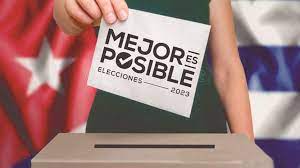 Engrossed in the organizational details of the electoral process are the electoral commissions of each municipality of the Avilanian province and of the entire country.
A few days before the voting day, the state of the electoral colleges, the updating of the lists of voters, the logistics of this activity, the communications system to transfer the data and each element of the gear are specified to ensure the reliability and transfer.
On Sunday, March 26, another day of citizen democracy will be lived in which the right and duty to vote allow citizens to elect their representatives as deputies in the X Legislature of the National Assembly of People's Power.
At present, the photos and biography of the 23 candidates for parliament in the province are exposed in visible places in the 547 constituencies of the Avilanian territory.
The province of Ciego de Ávila will have 883 polling stations, located in schools, Family Doctor's offices, work centers, and even in citizens' homes, in addition, special premises will be set up in the North Keys, the hospitals of the avilanian capital and from Morón, the National Bus Terminal and even a boat for fishermen who are on the high seas, on the south coast.
A dynamic test of this electoral process will be carried out today to adjust every detail and thus offer citizens all the conditions to exercise their full right to participate in the government of the Cuban nation.