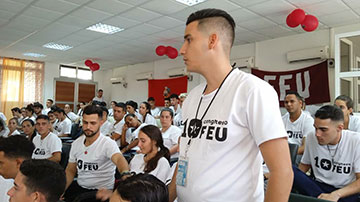 With the participation of a hundred delegates, the TENTH Congress of the University Student Federation of Medical Sciences ended in Ciego de Ávila.
The first congress held in the country on the way to the national meeting next December, was led by Karla Santana, president of the organization in the country and the political leaders of the territory headed by the First Secretary of the Provincial Committee of the Party, Liván Izquierdo Alonso.
In the plenary session, issues such as the links of the centenary organization with foreign students, the updating of the bibliography with which the lectures are taught, the attention to the graduates under the scientific merit award, also the delegates requested the expansion of the avilanian faculty so that students in careers such as estomatology can be integrated into the activities of the FEU.
Yohant Pazos, president of the FEU in this house of higher studies explained that during the period in which the congress was developed in all the brigades and residences the young people of the medical university were in contact with all sectors of society to evaluate their potential as future doctors and the integrity of the organization that brings them together.
The final words were provided by Karla Santana, president of the FEU in the country, who pointed out how future health professionals in Ciego de Ávila continue to rethink the work of the FEU, as well as the sector where they work. The young woman called to continue questioning the credibility of the organization and its student leaders, seeking improvements in the process.