The beginning of the year brought the restoration of several areas of the Provincial Teaching Hospital Doctor Antonio Luaces Iraola, in the avilanian capital city, which improves the public service it provides.
In spite of the difficult economic situation the country is going through, the aforementioned constructive actions received an important monetary budget for the works.
The Gastroenterology, Pediatric Surgery, Gynecology, Cardiology and Information Center rooms now have a special shine with their remodeling, painting and even new furniture.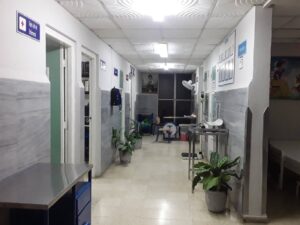 The stay in these facilities is much more pleasant for both patients and workers, and both groups have an equal responsibility in their care to keep them that way.
Doctors, nursing staff and service workers have to watch over and demand compliance with the disciplinary measures established to prevent the deterioration of these rooms.
Patients and their families should also feel obliged to preserve each facility of the hospital in order to receive the good service that is so much demanded in terms of comfort and cleanliness.
In the Antonio Luaces Iraola Provincial General Teaching Hospital in Ciego de Ávila, the aim is to have the best conditions in a place that is too small for the population of the territory, and that is one more reason to take good care of each of its areas.