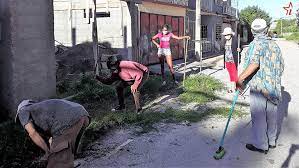 The Member of the Central Committee of the Party and its First Secretary in Ciego de Ávila, Livan Izquierdo Alonso, participated this Saturday in a voluntary work as a result of the efforts of the civil organizations of the Alfredo Gutierrez Lugones Popular Council, south of the city of Ciego de Ávila.
As part of the Latir Avileño movement that involves different segments of the society, the top political leader in the province together with Tomas Alexis Martin Venegas, Governor of the territory, verified the joint effort that is being carried out in the peripheral area in order to transform the image of the neighborhood.
They also talked with the neighbors of the district, and appreciated the favorable climax that was breathed during the development of a commercial agro-alimentary fair established on weekends in the park avenue of that district.
After the visit and participation of Livan Izquierdo Alonso and Tomas Alexis Martin Venegas in the voluntary work day carried out this weekend in the Alfredo Gutiérrez Lugones Council of the head municipality, Mirtha Doyle, representative of the Popular Power in the area, said that the act evidences the close ties of unity that prevail in Cuba, while motivating the fulfillment of the multiple tasks that are executed there for the citizen welfare.