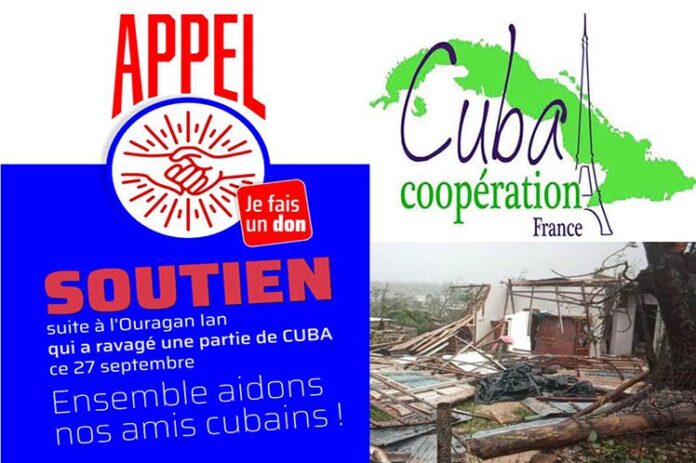 The Cuba Coopération France (CubaCoop) association confirmed today a first shipment of 17,000 euros to support recovery efforts on the island after the devastating passage of Hurricane Ian through its western region.
On Wednesday, one day after the impact of the meteor, the French organization launched an urgent call for solidarity with the Antillean nation through donations, a call also made by the Coordinating Committee of Cuban Residents and associations such as Cuba Linda, Cuba Si France and France Cuba, and the Europe for Cuba channel.
We are aware of the situation the island is going through right now and of the importance of aid for its recovery, which is why we have decided to prioritize it, CubaCoop president, Victor Fernández, told Prensa Latina, recalling the activation in previous weeks of campaigns to support Cuba, such as the one launched in August in response to the fire in the industrial zone of Matanzas.
According to Fernández, in the last hours new contributions of money were made, so he highlighted the response to the appeal made in the face of the severe damages caused by Ian in the western area and anticipated future shipments.
We are mobilized to support Cuba and this Friday we will carry out actions to expand the campaign, said the president of an association that has been promoting projects for the socio-economic development of the largest of the Antilles since 1995.
The island's ambassador to France, Otto Vaillant, thanked Fernández for the donation and acknowledged the solidarity and commitment shown by CubaCoop, the coordinator of resident Cubans, France Cuba, Cuba Sí France, Cuba Linda and Canal Europa por Cuba.
In their communiqués, these organizations regretted the human and material impact of Hurricane Ian and reiterated their denunciation and condemnation of the economic, commercial and financial blockade imposed by the United States on the Caribbean nation for more than 60 years.