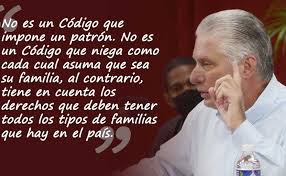 Cuban President Miguel Díaz-Canel yesterday highlighted the rights and protection offered by the new Family Code to the elderly within the family environment.
From his Twitter account, the president said that the legislation has among its priorities the elderly, «not from weakness or compassion, but as the protagonist of their destiny, transmitter of values, customs and principles; carrier of new energies and protagonist of the family environment,» he stressed.
In another message on the same social network, he expressed that the new Code offers a broad, diverse and universal look at citizens, whatever the age, sex, gender, sexual or gender orientation, disability situation, or possible situation of vulnerability. «That is why on September 25, #CodeYes,» he noted.
The new Code of Families proposes the right of older adults to harmonious and close communication in family settings, as well as to their self-determination, independence and equal opportunities.
It also rules out all manifestations of discrimination and violence to which the elderly may be subjected within family dynamics.
The final version of the new Family Code will be submitted to a popular referendum on September 25 for the Cuban people and on the 18th of the same month for nationals residing abroad for official reasons, under the ethical principles present in the electoral system.
On that day, Cubans who have reached 16 years of age, are in full enjoyment of their political and civil rights, have effective residence in the country for a period of no less than two years prior to the voting, are registered in the Electoral Registry and do not present any judicial restriction for the exercise of their legal capacity may go to the polls.