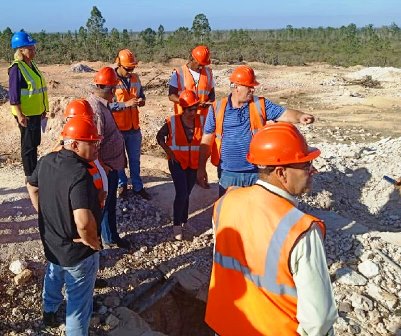 The Minister of Energy and Mines, Vicente de La O Levy, made a call for integration to strengthen the fight against illegal mining in the municipality of Baraguá with the required rigor, rationality and systematicity in an exchange with directors of the province of Ciego de Ávila.
He stressed that there is evidence of the tendency to control the facts, as seen during a tour of the site, where citizens from this and other provinces, mainly from the eastern part of the country, exploit a gold deposit without having authorization for that activity.
He warned about other actions, which constitute a crime, associated with this activity and the risks to the safety and health of the people involved, as they do not have adequate equipment and means of protection for mining.
He also referred to the impact on the local economy by influencing the devaluation of the national currency, so that the price of goods is established accordingly with the aforementioned natural resource.
In such circumstances, he evaluated the relevance of dialoguing with the citizens who incur in the illegal activity, most of them with an adjusted social behavior, however, encouraged by the possibility of obtaining economic benefits.
He informed that decisions were adopted aimed at favoring the reduction of these events, in order to safeguard the mineral reserves for their correct exploitation, with the objective of generating new and necessary income for the country.
De La O Levy explained that during the stay in the territory of the municipality of Baraguá, where the site in question is located, they developed technical actions and in the next few days a group of specialists will arrive to continue the studies in the area.