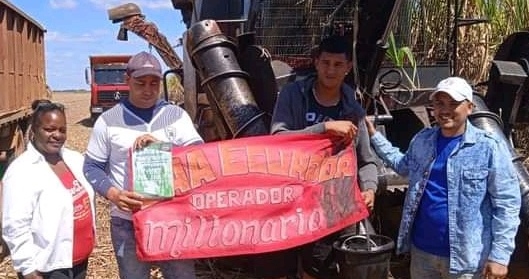 A meeting in the sugarcane field was doubly emotional: Yoandris Carvajal Navarro and Yordis Roblejo Sánchez were among the first in the country to become mechanized cutting millionaires and received certificates of recognition from Lourdes Milagros Layne Valdés and José Carlos Cruz Sandoval, candidates for deputies to the Cuban Parliament for the municipality of Baraguá, southeast of the province of Ciego de Ávila.
The youngsters battled against pitfalls, in Sun and fo to overcome the first goal in 12-hour days, with a ten-hour rest to recharge energy and ride their iron horses again, say Case model combines, because both operators are proposing new endeavors .
«If the reeds accompany us in quantity and quality, it is worth the sacrifice because we are already looking for another million», says Yoandris and comments that to prevail over obstacles he has the experience of a decade with the golden title of emulation in the sugar seasons.
«For the rest, victory is certain because we have a great collective, a good platoon leader and better behavior this year from the trucks for the transfer of raw material to the mill.»
His teammate Yordis considers that «the victory also depends on the care in the preparation, prior to the contest, of the harvesting machines, which suffer breakages as is normal, but I call my machine the horse and it is not by chance.»
Another advantage for these heroic harvesters is to have the support of the Ecuador sugar mill, with the prospect of fulfilling their raw and refined sugar plan for this season.