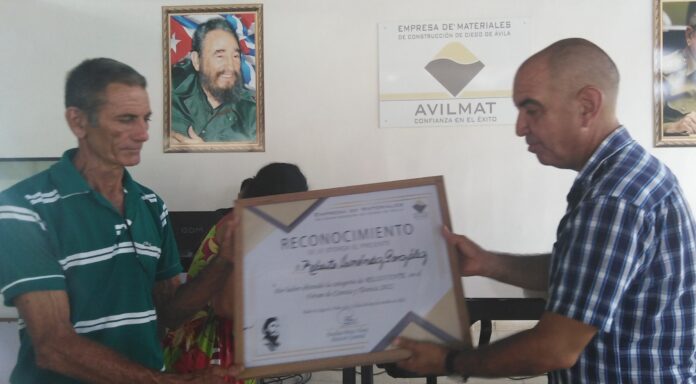 The awards ceremony took place at the Forum of Science and Technology of this entity Nacional Vanguard.
The program of activities included the celebration of the Science and Technology Forum at the Construction Materials Company (Avilmat), a Nacional Vanguard collective in Ciego de Ávila, as part of a day of homage to innovators and rationalizers.
More than 26 pieces of work were presented at the event, which provided useful solutions and stood out for their scientific rigor, collaborative environment and encouragement to those who contribute to business efficiency.
Among those honored were Jorge Viamonte Mayea, Roberto Hernández González, Edilberto Benítez González and Andrés Pérez Ramos, winners of awards for the relevance of their inventions.
Rafael Sosa Gómez, who this year also won the National Award for the Innovator with the Greatest Economic and Social Impact, was also encouraged.
Among the contributions of the ANIR members, the adaptation of two digital scales in the bagging machine of the special mortar or cement glue, in the plant of the Concrete and Terrazzo Unit, in the municipality of Morón; and the modifications to the screen #2 of the XX Anniversary mill, in Chambas, stand out.
Also outstanding were the fabrication of the primary mill shaft and the modifications to a crane, both inventions at the cas plant in Punta Alegre.
At the closing of the event, Yoany Pavón Cárdenas, member of the National Board of the Association of Innovators and Rationalizers (ANIR), said that the greatest strength of this organization is its members, who with their talent and creativity provide solutions every day in the workplace.