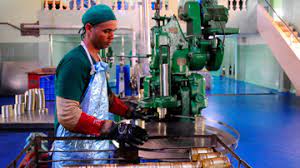 After concluding last year with 22 companies with financial losses and evaluating the closing of last March with only seven, the trade union movement in Ciego de Ávila evidences a substantial advance due to raising the economic indicators of the province.
This is what Niurka Ferrer Castillo, General Secretary of the CTC in the territory, testified to in her central report, who called for not losing the impetus that characterizes the labor movement to celebrate May Day, World Day of the Proletariat, with superior results.
The event came to light this Thursday during the annual balance of the organization work, chaired by Bárbara Guerra Pérez, Member of the Provincial Bureau of the Party, and Leovanis Ávila González, Deputy to the Cuban Parliament and member of the National Executive Secretariat of the CTC.
Among the elements with the greatest impact in the forum, unanimous consensus was the need to reverse actions related to the completion of the leaders policy, an aspect in which the region is lagging behind, to achieve greater affiliation of the new economic actors, and to systematize the monthly meetings with affiliates.
Several interventions such as those of the representatives of the Arnaldo Ramírez and La Cuba Agricultural Companies, testified to how much can be achieved with cohesive and creative work.
As the culmination of the meeting and after being presented the new Provincial Committee of the CTC in which young people predominate, the attendees agreed to send a congratulatory message to the men and women who do the harvest in central Ecuador in the municipality of Baraguá, the first industry of Ciego de Ávila in fulfilling the sugar production plan.