The provincial workshop «Discussion of gastroenterology action protocols in Ciego de Ávila» was carried out as one of the professional improvement actions that are organized to raise the professional level of Avilanian medicine.
Medical and nursing staff of the specialty in the province, exchanged experiences to unify and update procedures that benefit the recovery of patients suffering from diseases of the digestive system.
At the event, Dr. Alberto Martínez Sarmiento explained the protocol for action in the event of ascites or fluid accumulation in the abdominal cavity in a cirrhotic patient.
The nursing procedure for patients with upper digestive bleeding, a frequent case within the specialty, was also explained.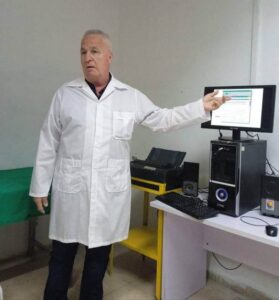 Another interesting intervention was made by Dr. José Camacho Assef, who gave a very accurate presentation on how to make an adequate guide, a protocol, a procedure manual to manage a patient with altered liver tests.
Other experiences were exposed to the participants, who now have more tools to provide efficient care in primary and secondary health care.
Gastroenterology is a specialty that treats diseases that affect the digestive system, which includes the gastrointestinal tract (esophagus, stomach, small intestine, large intestine, rectum, and anus), as well as the pancreas, liver, bile ducts, and gallbladder.