A strange plant called Pithaya, a species of cactus, with sweet fruits, many small seeds and rich in omega 3, has arrived to the fertile lands of the south of the province of Ciego de Ávila.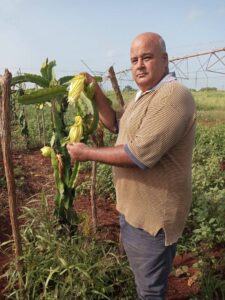 In the UEB Frutales Sur of Agro Indusial Company Ceballos grows the incipient planting, with characteristics that Romelio Rodríguez Sánchez, agronomist engineer and Doctor in Agricultural Sciences, explains.
«This small area was conceived as a nursery to achieve seedlings. We already have cuttings at the Bio-plants Center to see if in the future we can obtain pitahaya vitroplants, but so far very little exists. In the next few years this crop will gain more strength,» explains Dr. Rodriguez.
With Bio-plants, joint work has begun for this center to develop a protocol for in vitro propagation.
«There is a group named Cuba Pitahaya in Alquizar and in that locality we bought some yellow and red fruit plants from the Scientific and Technological Base Unit (belonging to the Tropical Fruit Growing Research Institute), which were planted in the avilanian land «, adds the main specialist of the Innovation and Development group of the Ceballos Agro industrial Company.
«This fruit could be exported and sold to the population, but for that you have to make a productive strategy and have enough plantations,» says engineer Romelio Rodríguez.
According to agricultural literature, the so-called dragon fruit is a source of natural antioxidants, contains vitamin C and vitamin B2, vital for the production of red blood cells.
This fruit also contains a substance called tyramine, which activates a hormone that stimulates the body to use sugar and fat reserves to transform them into energy.
For the consumption of the population, Pithaya would be a good option within the range of the already known tropical fruits, hence its propagation should be attended with rigor and the necessary resources for its propagation on a commercial scale.