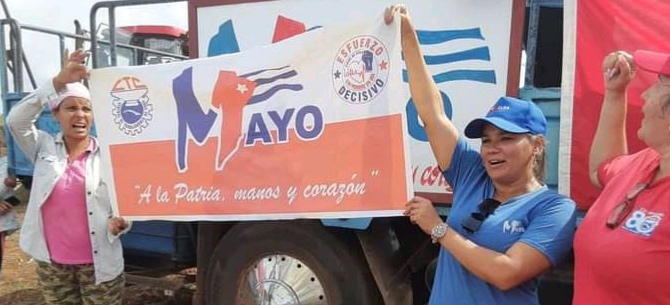 The Ignacio Agramonte Cooperative was the main setting for volunteer work dedicated this weekend to May 1st
Thousands of workers mobilized this weekend to work in agriculture and the sugar harvest in the 10 municipalities of the province of Ciego de Ávila, in homage to the 62nd anniversary of the victory in Playa Girón and on the occasion of the proximity of International Day of the working class, the coming May Day.
The main day of volunteer work took place at the Ignacio Agramonte Agricultural Production Cooperative, in the center of the Avilanian territory. Rafael González, president of that productive base, declared to the press that they received great support with the planting of 20 hectares of cane.
In front of a group of young people was the university professor Ariel Villalobo Rivera, who stressed that it constituted a practical class because they are students of agricultural sciences who directly to the furrows learn the importance of this economic activity.
For her part, Mariset Hernández Rodríguez, member of the Provincial Secretariat of the Cuban Workers´ Union, emphasized that the activity is included in the program of actions of the union movement, in commemoration of May 1st.
In the productive day, headed by Liván Izquierdo Alonso, Tomás Alexis Martín Venegas and Niurka Ferrer Castillo, first secretary of the Party, provincial Governor and general secretary of the CTC in the Avilanian territory, respectively, the unionists of the municipality of Ciro Redondo, delivered to their Chambas counterparts, the May Day flag that runs through workplaces.