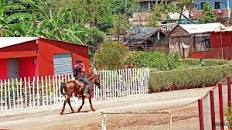 Under Martí's precept that «if man is useful, the land is useful», the members of the Paquito González Agricultural Production Cooperative of the municipality of Baraguá, won the seat of the provincial act in Ciego de Ávila for May 17, Day of the Farmer in Cuba.
The condition testifies to the fulfillment of all its productive plans and the growth of affiliates, as well as the contribution to the social development of the community where the harvestable areas are located.
For this, the construction of 80 houses, the playground, an elementary school stand out, while they plan to build a small house and countryside for the smallest of the region.
The CPA Paquito González of the Avilanian municipality of Baraguá, headquarters of the central activities in the province for the Day of the Farmer, although it achieves encouraging results in various crops such as root vegetables, vegetables, grains and high volumes of potatoes, it also shows progress in livestock and livestock modules, in order to provide an effective response to the food sovereignty plan that the Cuban peasantry is undertaking throughout the island.