During the Meteoro 2023 Exercise that ended this Sunday, May 21, workers from the Provincial Directorate of Community Services intensified sanitation actions in the city of Ciego de Ávila.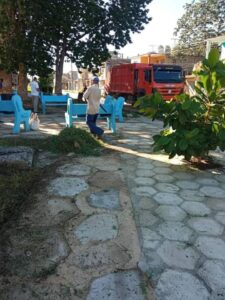 Luis Alberto Pérez Olivares, director of that entity, reported that they joined the «Embracing the neighborhood» movement, for which they carried out work aimed at reducing vulnerabilities to natural disasters in Circumscription 82 of the City Center Popular Council.
Among the tasks carried out by this group, the pruning of green areas, the cleaning of sewers and surface drains, the unblocking of the entrances of the sewerage systems, the pruning of trees, the cleaning of the park and the collection of waste stand out.
The Meteoro 2023 Exercise was also a pretext for the workers from Ciego de Avila to carry out an intense sanitization day in different parts of this city of Ciego de Ávila, among them, the Zoological Park Complex.
Pérez Olivares added that they also worked on updating the plans for disaster risk reduction and the assurance of resources, as well as possible contingencies in areas of the corpse incinerator, since it is located in a flood danger area.