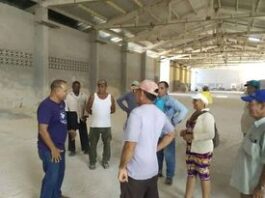 The national bureau of the Association of Innovators and Rationalizers (ANIR) will encourage the members of this organization who won the Award to the Innovator with the Greatest Economic and Social Impact, now in its twentieth edition this year.
Lidier Águila Machado, president of ANIR in the country, informed during a recent visit to Ciego de Ávila, that 25 Anir members from the provinces of Pinar del Río, Havana, Villa Clara, Cienfuegos, Sancti Spiritus, Ciego de Ávila, Camagüey, Santiago de Cuba and Guantánamo will receive awards.
He pointed out that the winners of the last three editions of the call for such well-deserved recognition, which was not awarded at the corresponding stage due to the complex epidemiological situation of the country because of the COVID-19 pandemic, will be honored.
In a meeting with workers of the High Density Polyethylene Piping Company Ciegoplast and the Concrete and Terrazzo Business Unit in Morón, Águila Machado emphasized the need to prioritize the solutions that can be generalized with a minimum of resources within the entities themselves and in the different sectors of the economy.
He exemplified about inventions aimed at saving all kinds of resources, food production, manufacture and recovery of spare parts and other priorities. He insisted on strengthening the link with the universities and the new actors of the economy.
The leader praised the work of Yordanis Terry Pérez, from Ciegoplast, and Rafael Sosa Gómez, from UEB Hormigón y Terrazo, winners of the Anir National Award, who together with the other winners of the award, will be recognized at the Innovator's Day Conference in October.