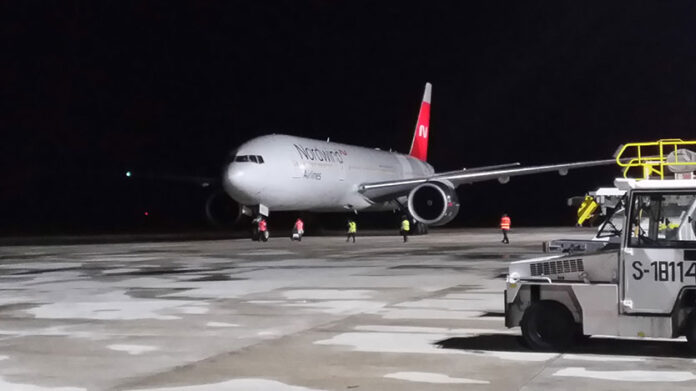 Intense night work days clarified the completion of the pavement structure along the 3000 meters in length and 25 wide that contemplates the main axis of the track of the Jardines del Rey International Airport, in Cayo Coco, north of Ciego de Ávila.
The engineer Edián García Mursulí, head of the Base Business Unit (EU) number one of engineering and asphalt, told Invasor that in the paving work they used almost 11,000 tons of asphalt and for this year they have planned to pour another 8000, in different parts of the enclave.
Something unique is that the group is forced to work in the so -called windows; That is, exclusively at night: from 12:00 at night to 7:00 am on the other day, period of time in which flights tend to recess.
"We entered an hour after the aircraft takeoff and we left one before the entrance of the first plane; we can't even work every day. This constitutes, precisely, a brake on the speed in the progress of the work, along with other limitations such as the lack of fuel, which limits the work in the asphalt factory and the aged production plant, "argued the architect Pedro Manuel Évora, deputy director of the construction and assembly company of the Ciego de Ávila.
In any case, what remains to be done will not prevent the arrival of airlines aircraft that connect Cayo Coco with the capitals of the emitting countries, mainly, Canada.
The improvements on the track began in the last quarter of 2022 and are necessary to receive large aircraft (more than 300 passengers)
The maintenance of the track is due to a scheduled planning, for the good of the durability, reliability and safety of operations at an airport that receives 47 flights every week.
Meanwhile, at the airport, indispensable actions have continued, some concluded today, to provide a better service, including improvements in air conditioning, elevators assembly, store remodeling and exchange house, and the removal of The VIP room. Likewise, there is a greater fuel storage capacity and a roofed ship was ready for the protection of specialized luggage and equipment.
In May 2020, civil aviation authorities in Cuba announced a repair, maintenance and improvement program of the 19 airports that the country has, of which 10 are international, with the purpose of raising the quality of the services, once commercial flights have been restored in the recovery stage after the pandemic.