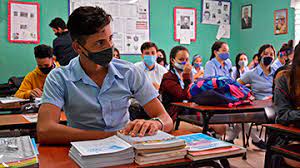 The more than three thousand students in the ninth grade of Basic Secondary Education in Ciego de Ávila are guaranteed to continue their studies with a variety of options that will be offered in October.
Nolberto Roche Noa, Deputy Director of Education in the province, informed that this month the list of students in each center will be published and they will proceed to fill in the ballots where they will write down the specialties they want, a process that will be carried out with the presence of their families.
The leader added that the granting of the majors will be done in a staggered manner, first those at provincial level, then at municipal level and then in the assemblies in the educational institutions.
Among the possibilities of studies are the Pre-University Vocational Institute in Exact Sciences (IPVCE) Cándido González Morales, for which entrance exams were held last July, the Camilo Cienfuegos Military School, pedagogical specialties, Computer Science and Nursing, the latter being the most demanded.
Back to the classrooms this September 5, the ninth grade students of Ciego de Ávila are guaranteed to continue their studies, which will be granted according to their position in the hierarchy and the needs of each territory.