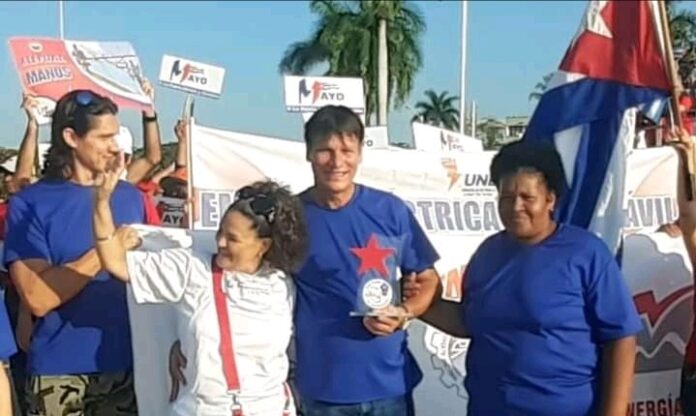 Now those of the energy sector undertake actions for a 26 victories with the political movement Latir Avileño
Although actions were taken in the central Cuban province of Ciego de Ávila to reduce the interruption time of the electrical service to three and a half or four continuous hours, a lower figure than the average for the country, any type of blackout causes inconvenience and constitutes a marked incidence for the energy sector, is recognized by Daniel Pérez García, general director of the Electric Company in the Avilanian territory.
The manager expresed that they concluded 2022 with only two deteriorated indicators out of a total of six with lower results in 2021.
«We began to recover our traditional achievement that once again placed us, at the end of last February, in the first national place in the reduction of losses due to the distribution of electrical energy, without failing to recognize that we still have interruptions.
«In addition, there is a strong investment process with which the electricians have commitments, a task backed by a Saudi credit, thanks to the culture of the people of Ciego de Avila in the production of food, which financing favors the productive poles of the agricultural companies Arnaldo Ramírez, from the municipality of Primero de Enero, and La Cuba, from Baraguá; and Agroindustrial Ceballos, all with national prestige for the efficiency and quality of their products.
«There is also a broad investment program to ensure the continuity and quality of our service in the tourist facilities of the North Keys.»
He said that the organization plans to resolve what is pending, such as the installation of 220 kilovolt meters, which he described as a major task due to the number of requests and insufficient availability of equipment to meet the demand.
«We must also work very hard to improve our means of transportation, with the perspective of achieving it with the new forms of non-state management, with a view to guaranteeing agility and quality in services to customers,» Daniel emphasized.
The group of the entity recently achieved, due to its integral results, the trophy that accredits it with the status of Latir Avileño, a political movement that promotes socioeconomic tasks in Ciego de Ávila and currently has LatirXUn26deVictorias as its slogan.